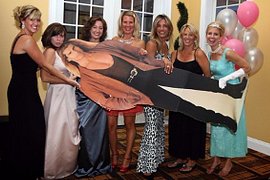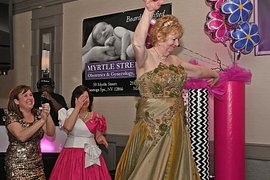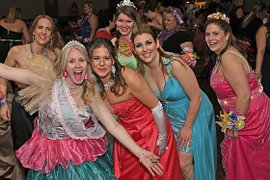 Don't forget about the exciting Prom Queen Crowning. (The Queen is crowned at 11 p.m. and must be present to become Mom Prom® royalty!) The Queen is chosen at random among all ticket holders, so anyone can win. (No popularity contests here! Mom Prom® is a drama-free zone.)
Is it outdated? Is it tacky? Is it gaudy? Dust it off and strut your stuff. Don't be afraid to wear that hideous dress in your closet. If you have the guts to wear it out, you deserve a prize. Volunteer to be in the Tackiest Dress Contest and the winner is awarded the biggest prize of the night.
Ladies get ready, this is one night you'll never forget. Call a friend, call your Mom, and call a babysitter because it's Prom night and I'm not talking about your child's prom. This is Mom Prom®! That's right; although Prom season is in full effect, Prom is not just for high schoolers anymore.
Gather your MOMtourage and join us for Elizabeth City's 1st Annual Mom Prom® (NOTE: You DO NOT have to be a mom to attend, just of the female gender) Pull out any old dress such as prom, bridesmaid, wedding, mother of the bride/groom dress, or pick something up from your local thrift store! There will be tons of dancing, giveaways, a silent auction with thousands of dollars worth of goodies, a tacky dress contest, celebrity cardboard cutouts and of course a prom queen will be crowned by random!
Tickets for the event will be $40 each and are on sale now. Hundreds of Mom Proms are held across the county each year and almost always sell out the same day they go on sale, so save the date!
This is a charity event and 100% of the proceeds go to benefit a charity. Please help us in supporting them and their incredible cause! We want you and your girlfriends to come out and have the time of your life all while doing a wonderful thing for your community!
THIS EVENT IS 21+ NO EXCEPTIONS CAN BE MADE!
No need to bring a date at this prom because we have Celebrities like George Clooney, Elvis, Prince Harry, Dwayne "The Rock" Johnson and more! These celebrities might be cardboard, but they are life-size and they love posing for prom pictures with the women of Mom Prom®.
"Changing the world, one prom at a time."